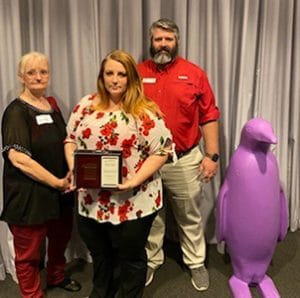 Cutline #1:  Jamie Haney's poster 'Don't Look Do Feel' was a 3rd place winner at the OCPRA contest in July.
Cutline #2:  Jamie Haney's family accepted the OCPRA award on her behalf.  Pictured (L-R):  Jeana Fowler, Amy Pickard, John Pickard.  (photo provided)
NOC's Jamie Haney earns award at OCPRA awards reception
Northern Oklahoma College Printing Services won an award at the recent Oklahoma College of Public Relations Association (OCPRA) reception in Oklahoma City.
NOC Printing Services Director Jamie Haney was awarded 3rd place for her entry in the Poster Division.  Her entry is titled, "Don't Think Do Feel" for the 2019-20 Annual NOC Student Art Exhibit at NOC Tonkawa.
Haney passed away in May 2021, the poster was entered for the competition on her behalf from the NOC Printing Services Department.
Accepting the award on Haney's behalf was her sister, Jeana Fowler, niece Amy Pickard and her husband, John Pickard.
NOC Vice President for Development & Community Relations Sheri Snyder said, "Jamie worked at NOC for 17 years in total. She loved her job and dedicated countless hours to ensure she produced exceptional products for students, staff, and faculty."
"Jamie's colleagues often commented on her amazing work ethic, her passion for creating the best productions possible, and her dedication, kindness, and selflessness," she added.  "Jamie's creative talent and dedicated leadership made an impact on so many individuals over the years and she will be missed."
The event was held at the 21c Museum Hotel in downtown Oklahoma City.