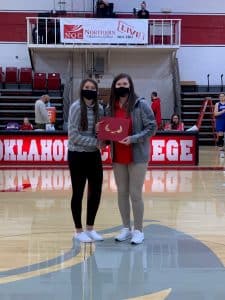 Cutline:  Jordan Webster received the Nevona Kegans Scholarship presented by NOC Athletic Trainer Summer McClure.  (photo provided)
Jordan Webster receives Nevona Kegans Scholarship
 Northern Oklahoma College Tonkawa Athletic Training student Jordan Webster, was awarded the Nevona Kegans Scholarship for the 2020-2021 academic year.
Webster is a HPER Athletic Training major who graduated from Hilldale High School in Muskogee, Oklahoma.
The Nevona Kegans scholarship is presented to an athletic training student attending the NOC Tonkawa Campus. Kegans was instrumental in establishing the athletic training program at Northern. Webster is the 4th recipient of this award and will receive a $500.00 scholarship.
Presenting the scholarship certificate to Jordan is Summer McClure, Athletic Trainer.
Webster was awarded the scholarship at a presentation March 20.