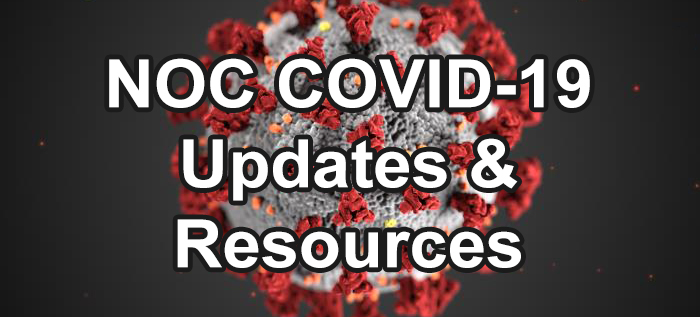 NOC is operating under normal business hours, Monday thru Friday, 8 am to  5 pm CST.
Academic Calendar  Information:
Based on consultation with local health officials along with a Memorandum of Understanding with a partner institution, NOC adjusted the start date of the spring semester in order to match schedules as required with our partner and to give us the best chance to finish the spring term in-person. Winter break was extended and spring classes started on Tuesday, January 19. With this change, NOC will not be having a traditional spring break in March 2021 in order to avoid another possible surge in COVID cases due to student and employee travel. This approach should allow us to finish the semester as originally scheduled.
Extending the winter break by one week and starting the spring semester on Tuesday, January 19, 2021;

Adjusting opening of residence halls for spring semester, Sunday, January 17, 2021;

 Extending enrollment for spring semester to 11:59 p.m., Monday, January 25;

Eliminating spring break (March 15 -19) and continuing with class instruction during this period;

Adjusting start date of late 8 and late 12-week courses;

Adjusting final day to withdraw/drop without evaluation for late 8 and late 12-week courses;

Continuing pre-finals week, April 26 – 30;

NOC Commencement for the Class of 2021 will be celebrated May 1, either through a modified in-person event or through a virtual ceremony, depending on the current State and CDC recommendations and

Conducting final exams May 3-7 as previously scheduled.
All NOC students, staff, faculty, contractors, vendors, suppliers and visitors must wear a face covering (mask) on campus property. (Note: As an alternative for those who cannot wear a mask for health reasons, a face shield may be worn. If an employee, contact Human Resources office; if a student or guest, contact the Student Affairs office – Tonkawa, the Vice President/Administration office – Stillwater, Vice President/Administration office – Enid for this exception.)
• Spring semester began January 19. Students have options for enrolling in sections that are either completely online courses, ITV courses (taught studio to studio for entire class connection), live online courses (taught during scheduled class times but open for students to log in via a personal device), or in-person instruction. Regardless of course structure, course content will be fully covered. NOC has in place an online learning management system, Blackboard, that supports all students in their classes.
• If circumstances require, all classes will be moved to a virtual learning environment to ensure student and employee safety. Courses may also adjust at any time by moving specific class days to a virtual setting if needed to maintain safety standards. The number of infections, hospitalizations and guidance from Oklahoma State Department of Health and other health professionals will be considered. Because of all the individual circumstances that must be considered, there is NOT a case number threshold that would trigger the switch.
• All classes that meet will follow social distancing guidelines with approximately 6' between each student and assigned seating. In classes where it may be more difficult to social distance with smaller rooms, fixed lab stations, and/or higher enrollment, instructors may rotate groups for physical attendance and virtual attendance and/or have physical lab days and virtual labs.
• For the purpose of the institutional attendance policy, in-person and online live attendance will be considered as equivalent. Students enrolled in courses with either of these formats who are not able to attend should contact instructors as soon as possible and provide documentation for any urgent medical issues that prevent attendance so that they may be given alternative opportunities to access course content. Attendance must be taken for all classes as it may be needed for contact tracing and federal financial aid purposes.
• Students, employees and guests must abide by the maximum capacity posted room signs to ensure social distancing.
• All college-related activities and events, both on-campus and off, will be reviewed on a case-by-case basis based on the current State and CDC recommendations at that time and must be approved by the appropriate Vice President and the President. Application for Campus Event.
• All non-college events, i.e., civic club meetings, reunions, weddings, camps, luncheons/banquets, on all three campuses are suspended through May 17, 2021.
• Common areas and employee breakrooms are open for individual usage with social distancing guidelines. Coffee and tea in breakrooms will not be available. Water fountains and ice machines for consumption will remain turned off to minimize the risk.
• Avoid gathering in break rooms/lunchrooms. These areas may still be utilized for food preparation (one at a time, or multiple people if 6-foot social distancing can be maintained). This does not include large campus dining areas where social distancing is practiced.
• Informal social gatherings that are an important part of the relationship building and camaraderie on Northern campuses will be modified until further notice. Events, including small office gatherings, must be pre-approved through the appropriate vice-president and follow the event activity guidelines for campus organizations. Self-serve buffets, family-style serving, and potlucks are no longer permissible on campus until further notice. If a celebration has been approved, only individual pre-packaged food and drinks can be served. Disposable utensils, plates, bowls, etc. must be used. Avoid sharing food and consider the safety of individuals with food allergies. All social distancing guidelines must be observed. Masks may be removed to eat and drink when seated and at least six foot from anyone. Hand sanitizer must be provided for guests.
• Spring "Wellness Days." Three "Wellness Days" have been designated for our campus community this spring semester. These will be "days off" for EVERYONE – our students, faculty and staff in order to recharge your batteries. These will be observed in line with OSU Wellness Days as follows: Wednesday, February 3; Thursday, March 4; and Tuesday, April 13.
• Spring Commencement and other end of year academic events. NOC Commencement will be celebrated May 1, 2021, through either a modified live ceremony or a virtual ceremony, depending on the current State and CDC recommendations. We will be announcing these details as we make our plans for all end of year academic achievement event later in the semester.
• A "normal" fall semester. Based on the vaccination schedules for our campus community, we are hopeful that NOC will be able to have a 2021 fall semester that is much more like students have enjoyed at NOC in years prior to this pandemic and that is something to truly be excited about.
• To stay up-to-date on NOC event and postponements and cancellations click here. 
• Visit the National Weather Service for local watches and warnings. 
COVID-19 (Coronavirus) Information
Northern Oklahoma College has updated the NOC Pandemic Plan effective immediately, according to school officials. The college is lifting its mask policy mandate making masks no longer required, effective immediately. Exception: masks will be required in certain areas...
read more
Oklahoma State Regents for Higher Education
Tornado / Severe Weather Information
About this site:
This Website is your resource for up-to-date information about campus alerts, closures and openings during emergencies or unfavorable weather situations. The updates from this site are available via telephone by calling the college's general information number at (580) 628.6677.
As a situation progresses, updates will also be available through local news media, the college's webpage, group emails, text messages and social media updates. In the event of an emergency, the college community may also receive communications via phone, voicemail, the siren system, fire-panel systems and flat-screen televisions in public gathering places.
For emergency information about specific campus services and facilities, check out the campus links or contacts sections of this Website.
Emergency Alert System:
Northern Oklahoma College uses an emergency alert system to help insure the safety of students and employees during an emergency situation (e.g. impending severe weather, intruder on campus, etc.).  The NOC Alert System uses text, voice and email messages to alert the NOC community in these events.  To confirm your number, add numbers, make changes to your account or opt out log-in to myNOC and click on the "NOC Alert" tab from the top navigation bar.
Stillwater Current Weather: