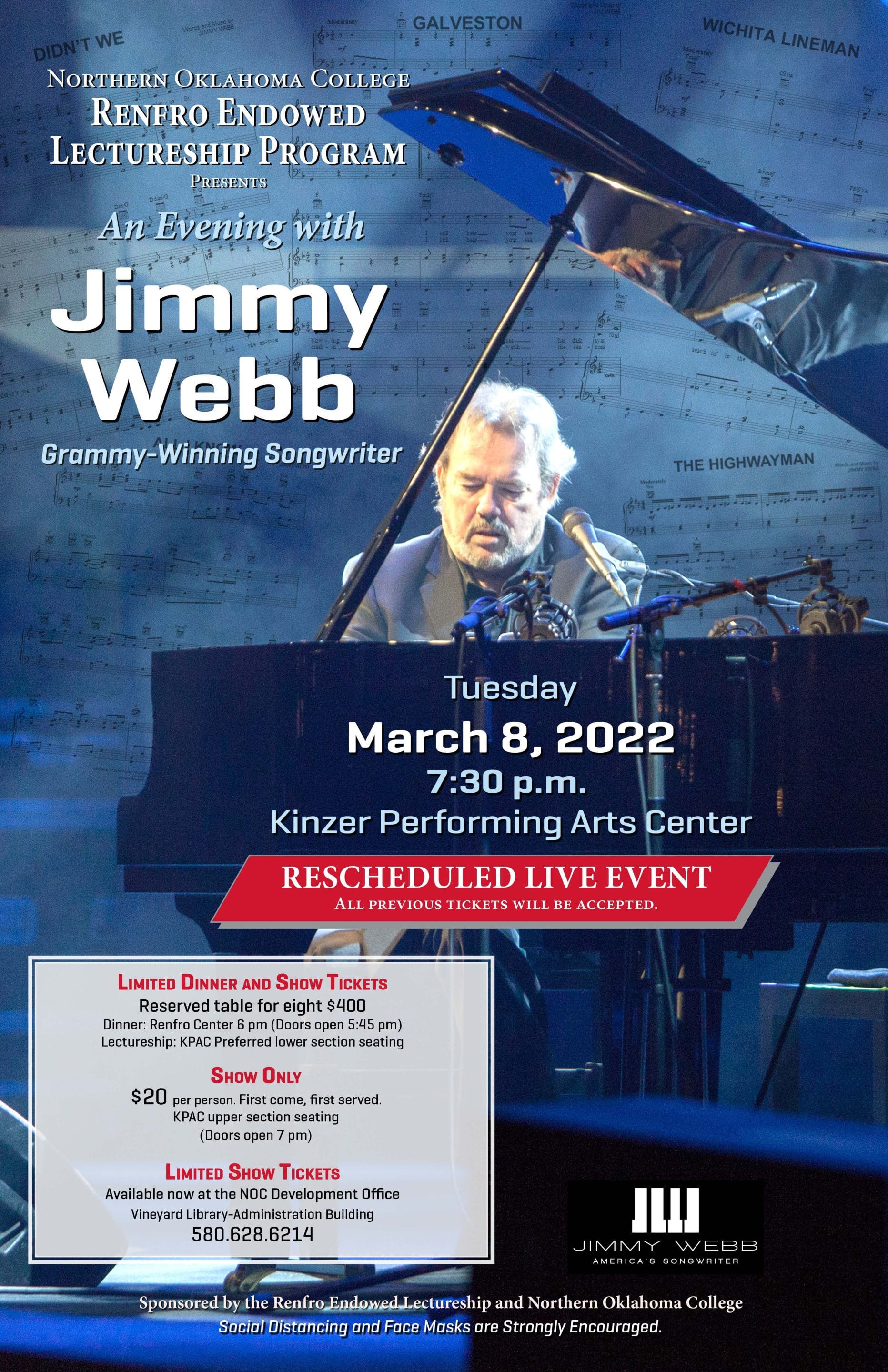 Event Contact Information
If you have questions concerning an upcoming event or need additional information, please contact the
Northern Oklahoma College
Development Office at
580.628.6214.
Kinzer Performing Arts Center Seating Chart
Carl and Carolyn Renfro Endowed Lectureship Program
Former Oklahoma State Regent Carl Renfro and the late Carolyn Renfro established the Carl and Carolyn Renfro Endowed Lectureship Program with a gift in 2006. The primary purpose of the endowment is to provide support to cultivate and enhance the cultural and community enrichment offerings in northern Oklahoma to include lecture and performance series at Northern Oklahoma College Tonkawa and in the Ponca City area.
Under upcoming events:
March 8, 2022 – Renfro Spring Lectureship featuring Grammy Award winning songwriter Jimmy Webb
NOC Renfro Lectureship – Jimmy Webb  – Rescheduled for March 8, 2022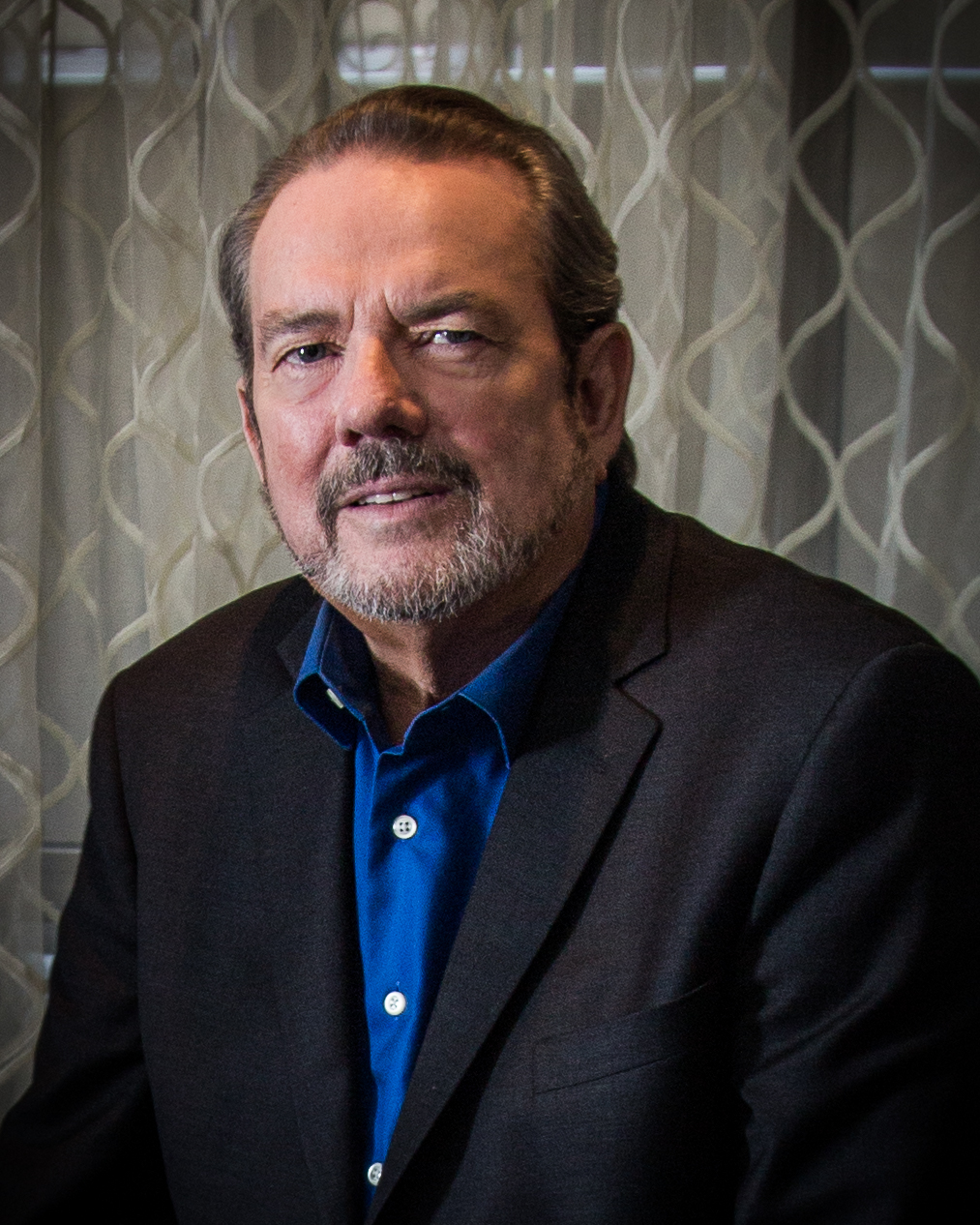 The Northern Oklahoma College Renfro Lectureship, featuring Grammy Award winning songwriter Jimmy Webb has been tentatively rescheduled for Tuesday, March 8, 2022.
The event is sponsored by the Carl and Carolyn Renfro Endowed Lectureship Program and Northern Oklahoma College. Webb will appear in the Kinzer Performing Arts Center.
Webb was scheduled to appear on three previous dates since the start of the pandemic in March 2020 but the event was postponed each time due to the pandemic.
Tickets already purchased for the original performances will be honored at the March 8, 2022
rescheduled program. Guests that are not able to attend the rescheduled program can either donate purchased tickets to the NOC Foundation – Renfro Lectureship Program as a tax deduction or request a full refund by Monday, Oct. 4.
Webb, known as America's Songwriter and native to Oklahoma, has written songs that transcend generations and genres including Wichita Lineman, MacArthur Park, By the Time I Get to Phoenix, and Didn't We.
A Motown-trained composer, Webb writes all of his own lyrics and music and is the only hit maker to have scored songs on the Pop, Country, R&B, Rap, Disco and New Age charts.
During this "Evening with Jimmy Webb," guests will hear this multi-Grammy Award winner's songs and experience his insightful and often humorous stories about his work with Glen Campbell, Frank Sinatra, Linda Ronstadt (Still Within the Sound of My Voice), Art Garfunkel (All I Know), The Fifth Dimension (Up, Up and Away), The Highwaymen (The Highwayman), Kanye West (Famous, features Webb's Do What You Gotta Do), and more.
Webb is the author of the memoir, The Cake and the Rain, and the "bible" of songwriting, Tunesmith: The Art of Songwriting. In 2019 Webb released a piano-only CD, "SlipCover", featuring some of his favorite songs from his contemporaries; Billy Joel, Paul Simon, The Rolling Stones and more.
Please call 580.628.6214 for ticket availability.
Directions to Kinzer Performing Arts Center