Vaccination Incentive Contest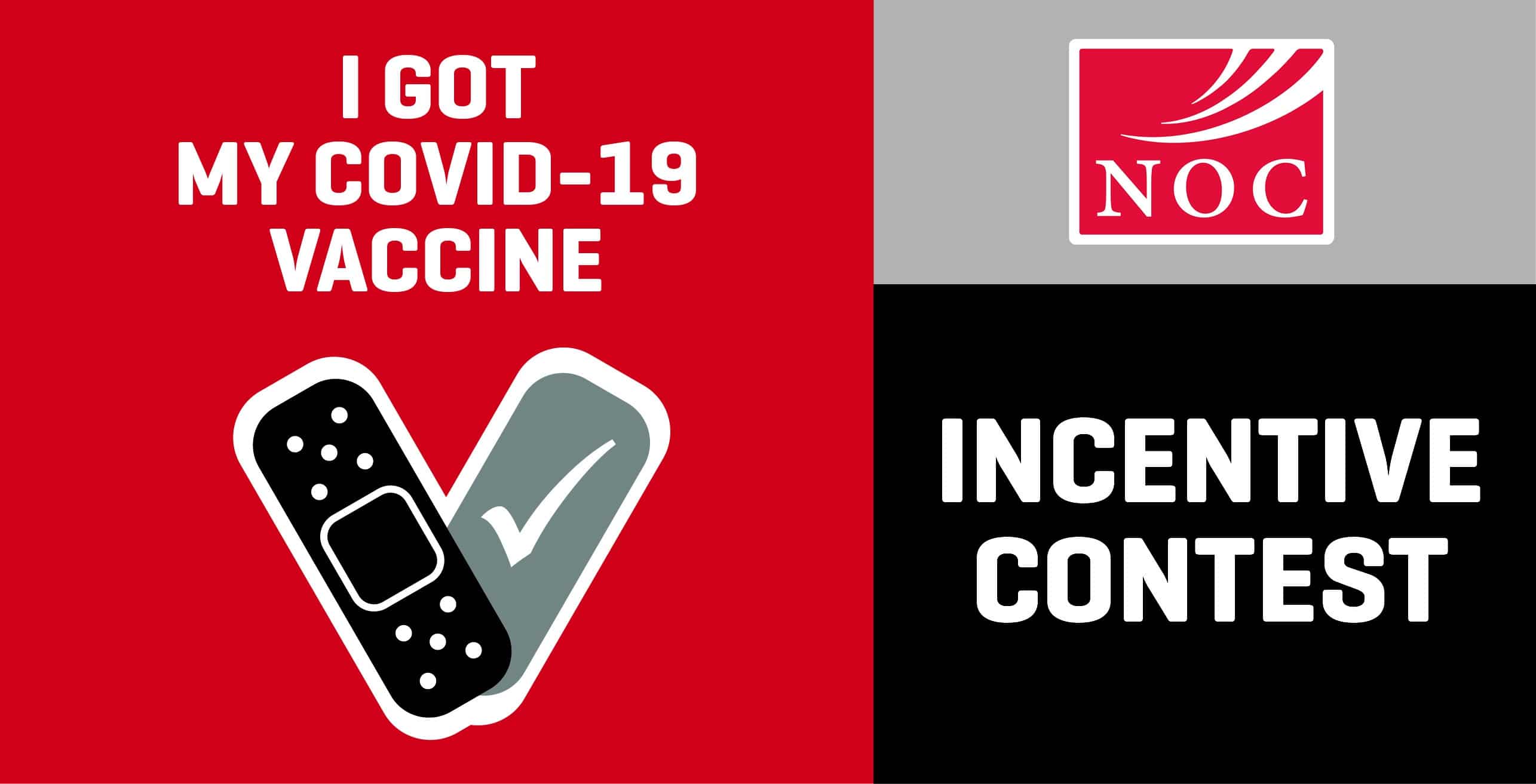 The health of our students and employees in our NOC Family is of critical importance. As the cases decreased this summer many people dropped their guard to COVID-19, although we are learning that the variants have increased transmission rates and that people that are testing positive is back to the November 2020 levels. We have learned that people that are vaccinated are less likely to become infected, and if infected the severity of their illness is greatly reduced.
NOC wants to help keep you healthy, keep you learning in the classrooms, and allow you to stay active in college athletics and activities. We can best accomplish this by having as many people vaccinated as possible at all NOC campuses. We are incentivizing this by creating a COVID-19 Vaccination Incentive Contest.
The goal of NOC COVID-19 Vaccination Incentive Contest is to substantially increase the number of fully vaccinated people who are teaching, working, learning, socializing, and living on our campuses. Below are vaccine incentive details and frequently asked questions for both students and employees at Northern Oklahoma College.
By entering the NOC COVID-19 Vaccination Incentive Contest you agree to be bound by these Official Rules:
Eligibility
This contest is open to all NOC fully vaccinated students and employees for fall 2021 semester. Those not fully vaccinated at the beginning of the contest may enter at any time once they are fully vaccinated.
Individuals who cannot be vaccinated due to medical conditions or sincere religious objections may fill out the COVID-19 Vaccination Exemption/Declination Request Form and also be entered to win prizes. Students and employees must upload the completed form to the online entry form following the same instructions for uploading vaccination proof.
Definitions
Fully Vaccinated: To be considered fully vaccinated, a student or employee must receive two doses of the Pfizer or Moderna vaccines, one dose of the Johnson and Johnson vaccine, or receive a World Health Organization approved vaccine. 
Students: All actively enrolled NOC students for fall 2021 are eligible.
Employees: All employees who are currently employed by NOC for fall 2021 are eligible.
Contest Dates
The contest begins August 18, 2021 and ends Oct. 6, 2021, at 5 p.m. CST. Entries received after 5 p.m. Oct. 6, 2021 CST will not be considered for awards, regardless of whether the late receipt resulted from human, computer or transmission error. For individuals receiving the two-dose Pfizer or Moderna vaccine, both vaccine doses must be administered by the 5 p.m. Oct. 6 deadline.
Entry Guidelines
Entry Process: The contest is open to fully vaccinated, current NOC students actively enrolled for fall 2021 and fully vaccinated, current NOC employees employed for fall 2021.
Students and employees fully vaccinated may complete the online entry form and upload a copy of their vaccination cards to be entered into the contest for the prize drawings.
Prize Drawings
Winning names will be drawn by NOC officials and the winning students and employees will be contacted once eligibility has been verified.
Student Prizes
65 Inch Smart TV (2 drawings per campus)
32 Inch Smart TV (2 drawings per campus)
Employee Prizes
$500 Pre-Paid Visa Gift Card (1 drawing per institution)
$200 Pre-Paid Visa Gift Card (1 drawing per institution)
Notification of Winners
Winners will be contacted by NOC officials once eligibility has been verified. Their names and prizes will be announced publicly via NOC News and through social media. If a winner does not respond to notification of the win within 14 days, the winner will be disqualified and a new winner will be chosen, based on the established judging criteria.
Conditions of Participation
Use of submissions
By entering this contest, the student hereby grants to Northern Oklahoma College the right to take their picture and to reproduce, use, exhibit, display, broadcast, distribute, exploit, modify, adapt, and create derivative works of photographs, videotaped images or video/audio recordings of the student ("Materials") by incorporating them into publications, catalogues, brochures, books, magazines, photo exhibits, motion picture films, videos, electronic media, web sites, and/or other media, or commercial, informational, educational, advertising, or promotional materials or publications related thereto.  Northern Oklahoma College reserves the right to modify or change the contest rules at any time. Contest is subject to all applicable United States federal, state, and local laws and regulations.
Contest ownership
Northern Oklahoma College is the sole owner and operator of the contest. Official rules, terms and eligibility requirements, prize information and selection are administered by the College. By participating, entrants release Facebook of any ownership. The promotion is in no way sponsored, endorsed or administered by, or associated with any social media company.
Waiver of liability 
By hosting this contest, Northern Oklahoma College in no way endorses or sponsors any manufacturer of vaccinations. By entering this contest, the student is choosing to voluntarily receive the vaccination(s) and assumes all liability therefore. NOC is not responsible for any injuries or illnesses occurring as a result of a student obtaining vaccinations and entering this contest.