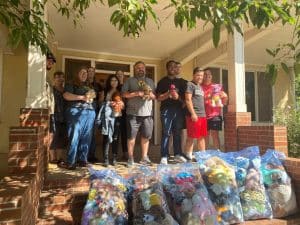 Cutline:  Pictured (L-R) are NOC students and Garfield County Care Campus:  Wes Dunn, Michelle Baldwin (CARE Campus), Kendra O'Hern (CARE Campus), Jesse Newfeld, Irasen Jauregui, Kaylynn Brownell, Dustin Albright (CARE Campus), Bruce Hinton, Maverick Smith, Cade Clymer and AJ Nichols.  (photo provided)
NOC Criminal Justice donates stuffed animals to Enid advocacy center
The Criminal Justice Society of Northern Oklahoma College recently donated hundreds of stuffed animals to the Garfield County Care Campus, a child advocacy center in Enid, Oklahoma.
The NOC Criminal Justice Program is led by instructor Troy Cochran.
The Criminal Justice Society, as a community service activity, became an affiliate chapter of SAFE (Stuffed Animals for Emergencies).  NOC Criminal Justice has the only SAFE Chapter in Oklahoma.
"All stuffed animals were mailed to the club from across the country," Cochran said.   "Students then sorted, cleaned, sterilized and bagged them up for donation.  This meaningful community service wouldn't have been possible without the generosity of those that mailed in stuffed animals, the Tonkawa Hometown Laundry who donated their services and the First Baptist Church in Tonkawa for donating laundry detergent."
For more information on NOC Criminal Justice, contact Cochran at 580.628.6663 and troy.cochran@noc.edu .
Contact the Garfield County Care Campus at 580.242.1153 or advocacycouncil@thecarecampus.com for more information.
Northern Oklahoma College, the state's first public two-year community college, is a multi-campus, land-grant institution that provides high quality, accessible, and affordable educational opportunities and services.
NOC serves nearly 4,000 students through the home campus in Tonkawa, branch in Enid, and NOC/OSU Gateway Program in Stillwater.  Of these students about 80% receive financial aid and/or scholarships. 75% of NOC students complete their degree with zero debt.
The college is accredited by the Higher Learning Commission and offers associate degrees in three general areas: Arts, Science and Applied Science; the Accreditation Council for Business Schools and Programs; and the Accreditation Commission for Education and Nursing.
For more information about Northern Oklahoma College please call (580) 628-6208 or visit the NOC website at www.noc.edu.
-30-