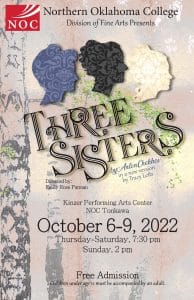 Three Sisters at NOC Oct. 6-9
The Northern Oklahoma College Division of Fine Arts presents "Three Sisters" by Anton Chekhov in a new version by Tracy Letts Oct. 6-9 at the Kinzer Performing Arts Center.
Showtimes Oct. 6-8 are 7:30 p.m. and Oct. 9 at 2 p.m.
The play is directed by Emily Rose Parman.
Admission is free, children under 12 must be accompanied by an adult.
Northern Oklahoma College, the state's first public two-year community college, is a multi-campus, land-grant institution that provides high quality, accessible, and affordable educational opportunities and services.
NOC serves nearly 4,000 students through the home campus in Tonkawa, branch in Enid, and NOC/OSU Gateway Program in Stillwater.  Of these students about 80% receive financial aid and/or scholarships. 75% of NOC students complete their degree with zero debt.
The college is accredited by the Higher Learning Commission and offers associate degrees in three general areas: Arts, Science and Applied Science; the Accreditation Council for Business Schools and Programs; and the Accreditation Commission for Education and Nursing.
For more information about Northern Oklahoma College please call (580) 628-6208 or visit the NOC website at www.noc.edu.
-30-