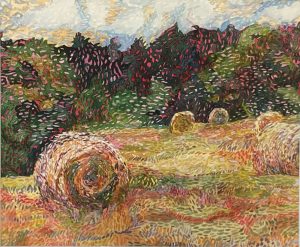 Cutline: "Round Hay Bales" by Caryl Morgan who teaches at Ponca City High School.
Teaching Artists Exhibition on View at NOC
"Teaching Artists Exhibition," featuring the work of twelve area educators who also make art is currently on view in Eleanor Hays Art Gallery on the Northern Oklahoma College Tonkawa campus, according to gallery director Audrey Schmitz.
Schmitz curated the exhibition with a vision of recognizing and celebrating the quality and diverse styles of art being produced by educators.  A "teaching artist" is defined as a practicing professional artist who has a dual career as an educator and who may work in many settings, from schools and art centers to hospitals and online venues.
Participating artists are Brandon Beichler, Charla Enns and Steven Goodwin of Enid; Betty Hancock, Cushing; Ashley Heitschmidt, Blackwell; Jena G. Kodesh, Red Rock; Alena Jennings, Mindy LittleCook and Theresa Sacket of Ponca City; Carol Morgan and Leah Pappan of Newkirk; Jason McNaughton, Norman.
Over 65 works of art include oil, watercolor and acrylic painting, digital imagery and photography, monoprints, pastels, mixed-media sculpture, ceramics and jewelry. Styles range from realistic subject matters to fantasy and expressive abstract works. All of the artists demonstrate technical mastery and experimentation with media and reveal a shared celebration of color. Viewers will find the diverse works strategically grouped to create visual experiences capitalizing on related properties of color, line, shape and composition. The majority of the art is available for purchase.
"Teaching Artist Exhibition" remains in the gallery through February 28. The gallery, located in the Kinzer Performing Arts Center, is open 1 to 5 p.m. Monday through Friday and during evening and weekend events in the KPAC Auditorium. Admission is free. Contact gallery director Audrey Schmitz at 580-628-6670 or audrey.schmitz@noc.edu for more information.
Northern Oklahoma College, the state's first public two-year community college, is a multi-campus, land-grant institution that provides high quality, accessible, and affordable educational opportunities and services.
NOC serves nearly 4,000 students through the home campus in Tonkawa, branch in Enid, and NOC/OSU Gateway Program in Stillwater.  Of these students about 80% receive financial aid and/or scholarships. 75% of NOC students complete their degree with zero debt.
The college is accredited by the Higher Learning Commission and offers associate degrees in three general areas: Arts, Science and Applied Science; the Accreditation Council for Business Schools and Programs; and the Accreditation Commission for Education and Nursing.
For more information about Northern Oklahoma College please call (580) 628-6208 or visit the NOC website at www.noc.edu.
-30-