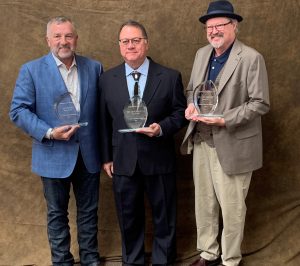 Jeff Medders, Willie Street MPAS, PA-C, and Dr. Jim Appleman were inducted into the Northern Oklahoma College Alumni Hall of Fame Saturday in Tonkawa.
NOC inducts three into Distinguished Hall of Fame
Northern Oklahoma College inducted Dr. Jim Appleman, Jeff Medders, and Willie Street MPAS, PA-C into the NOC Distinguished Alumni Hall of Fame on Saturday.
Appleman, Class of 1975, Medders, Class of 1981, and Street, Class of 1982, were inducted during the Alumni & Friends Reunion at the Renfro Center.  Rex Ackerson presented Appleman, Dr. Cathryn Jones introduced Medders, and Dr. Rick Edgington introduced Street.
Members of the Class of 1973 were recognized and Kelsey Mitchell of Perry was awarded the Legacy Scholarship.
NOC President Dr. Clark Harris formally inducted each member of the Class of 2023 saying, "All of you have made a significant impact at Northern Oklahoma College and the community," he said.  "We are so proud you are part of NOC's legacy and are great ambassadors for Northern Oklahoma College."
Appleman thanked Nevona Kegans-Bossert (Distinguished Alumni 2017) for the nomination.
"I appreciate Nevona for the nomination," he said.  "I am thankful to have attended NOC and all the great people associated with it."
Medders thanked Dr. Kathryn Jones (Distinguished Alumni 2007) who gave him his initial tour of NOC.
"A few minutes into the tour, I was hooked," he said.  "NOC gave me the foundation I needed that helped me at Oklahoma State University and then in my professional life.  NOC set me up for success."
Street summed up his life in one word, "resiliency."  In fact, the song "Eye of the Tiger" played during the slide show introducing Street.
"NOC was great for me because it gave me the support system," he said.  "NOC taught me to adapt to any given situation and more forward. I'm a living example of resiliency and I hope I can be an example for others."
Saturday's three inductions make 55 total members in the Distinguished Alumni Hall of Fame.
Inductees are selected by a nominating committee each year based on contribution of service to NOC, community involvement, leadership positions, citations and awards, and education.
The event is organized by Kayla Wooderson, NOC Director of Alumni and Community Relations.