NOC Tonkawa
P.O. Box 310
1220 E. Grand,
Tonkawa, OK 74653
580.628.6200

Grady R. Conrad, 2009 NOC Graduate, Attorney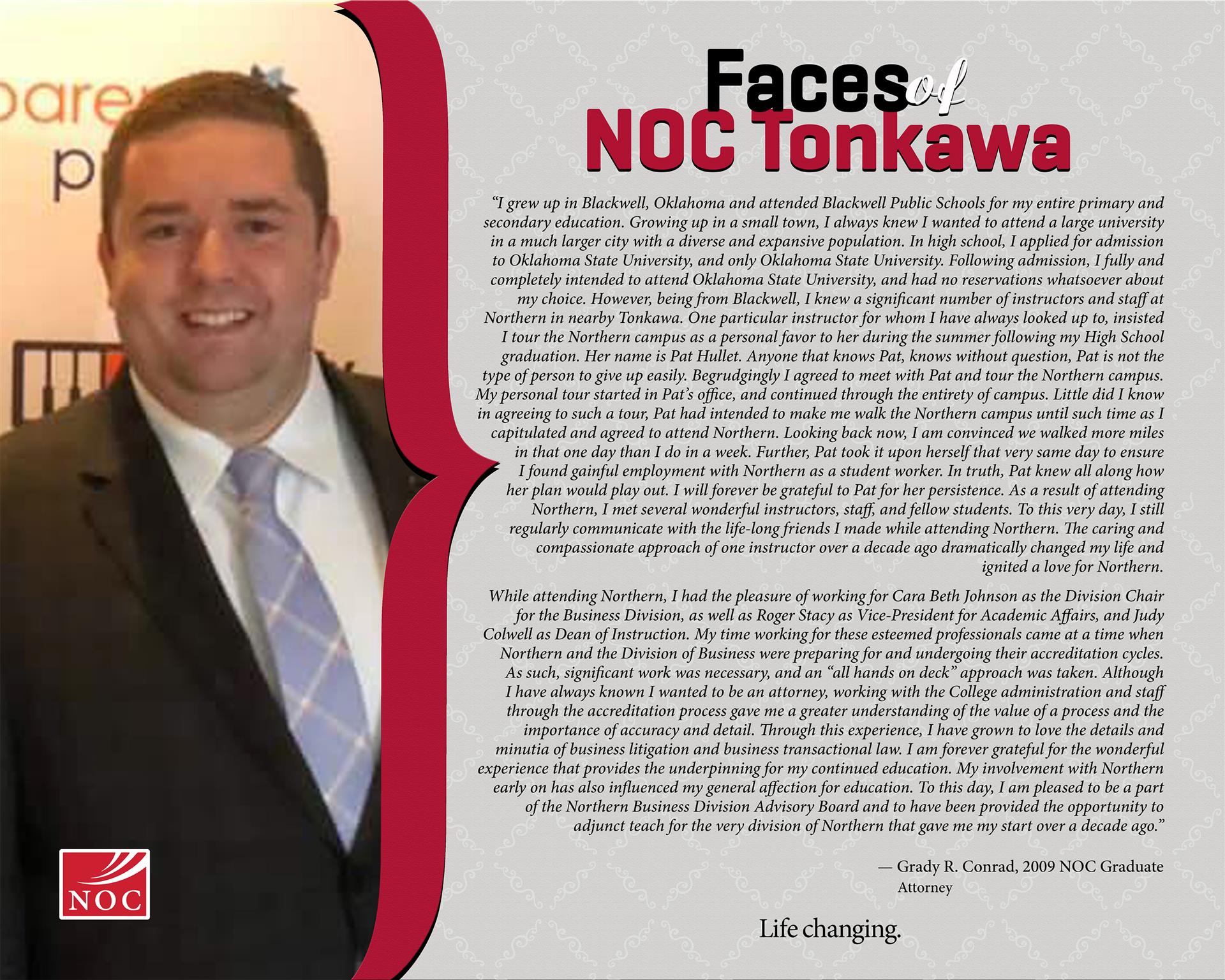 "I grew up in Blackwell, Oklahoma and attended Blackwell Public Schools for my entire primary and secondary education. Growing up in a small town, I always knew I wanted to attend a large university in a much larger city with a diverse and expansive population. In high school, I applied for admission to Oklahoma State University, and only Oklahoma State University. Following admission, I fully and completely intended to attend Oklahoma State University, and had no reservations whatsoever about my choice. However, being from Blackwell, I knew a significant number of instructors and staff at Northern in nearby Tonkawa. One particular instructor for whom I have always looked up to, insisted I tour the Northern campus as a personal favor to her during the summer following my High School graduation. Her name is Pat Hullet. Anyone that knows Pat, knows without question, Pat is not the type of person to give up easily. Begrudgingly I agreed to meet with Pat and tour the Northern campus. My personal tour started in Pat's office, and continued through the entirety of campus. Little did I know in agreeing to such a tour, Pat had intended to make me walk the Northern campus until such time as I capitulated and agreed to attend Northern. Looking back now, I am convinced we walked more miles in that one day than I do in a week. Further, Pat took it upon herself that very same day to ensure I found gainful employment with Northern as a student worker. In truth, Pat knew all along how her plan would play out. I will forever be grateful to Pat for her persistence. As a result of attending Northern, I met several wonderful instructors, staff, and fellow students. To this very day, I still regularly communicate with the life-long friends I made while attending Northern. The caring and compassionate approach of one instructor over a decade ago dramatically changed my life and ignited a love for Northern.
While attending Northern, I had the pleasure of working for Cara Beth Johnson as the Division Chair for the Business Division, as well as Roger Stacy as Vice-President for Academic Affairs, and Judy Colwell as Dean of Instruction. My time working for these esteemed professionals came at a time when Northern and the Division of Business were preparing for and undergoing their accreditation cycles. As such, significant work was necessary, and an "all hands on deck" approach was taken. Although I have always known I wanted to be an attorney, working with the College administration and staff through the accreditation process gave me a greater understanding of the value of a process and the importance of accuracy and detail. Through this experience, I have grown to love the details and minutia of business litigation and business transactional law. I am forever grateful for the wonderful experience that provides the underpinning for my continued education. My involvement with Northern early on has also influenced my general affection for
Lacey McCombs, 2013 NOC Graduate, Head Athletic Trainer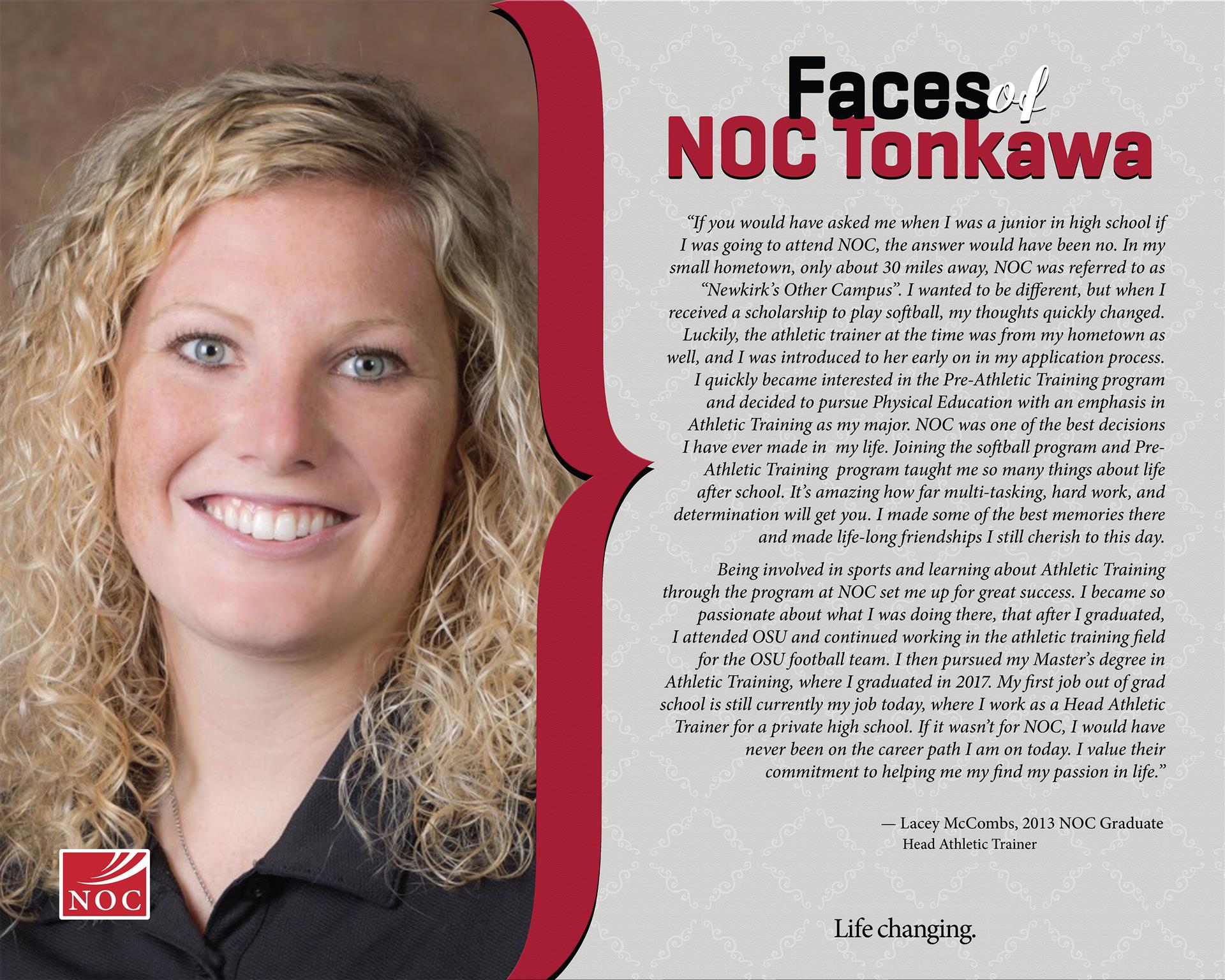 "If you would have asked me when I was a junior in high school if I was going to attend NOC, the answer would have been no. In my small hometown, only about 30 miles away, NOC was referred to as "Newkirk's Other Campus". I wanted to be different, but when I received a scholarship to play softball, my thoughts quickly changed. Luckily, the athletic trainer at the time was from my hometown as well, and I was introduced to her early on in my application process. I quickly became interested in the Pre-Athletic Training program and decided to pursue Physical Education with an emphasis in Athletic Training as my major. NOC was one of the best decisions I have ever made in my life. Joining the softball program and Pre-Athletic Training program taught me so many things about life after school. It's amazing how far multi-tasking, hard work, and determination will get you. I made some of the best memories there and made life-long friendships I still cherish to this day.
Being involved in sports and learning about Athletic Training through the program at NOC set me up for great success. I became so passionate about what I was doing there, that after I graduated, I attended OSU and continued working in the athletic training field for the OSU football team. I then pursued my Master's degree in Athletic Training, where I graduated in 2017. My first job out of grad school is still currently my job today, where I work as a Head Athletic Trainer for a private high school. If it wasn't for NOC, I would have never been on the career path I am on today. I value their commitment to helping me my find my passion in life."
Dr. Tracy Patterson, 2003 NOC Graduate, Professor of Music at Winthrop University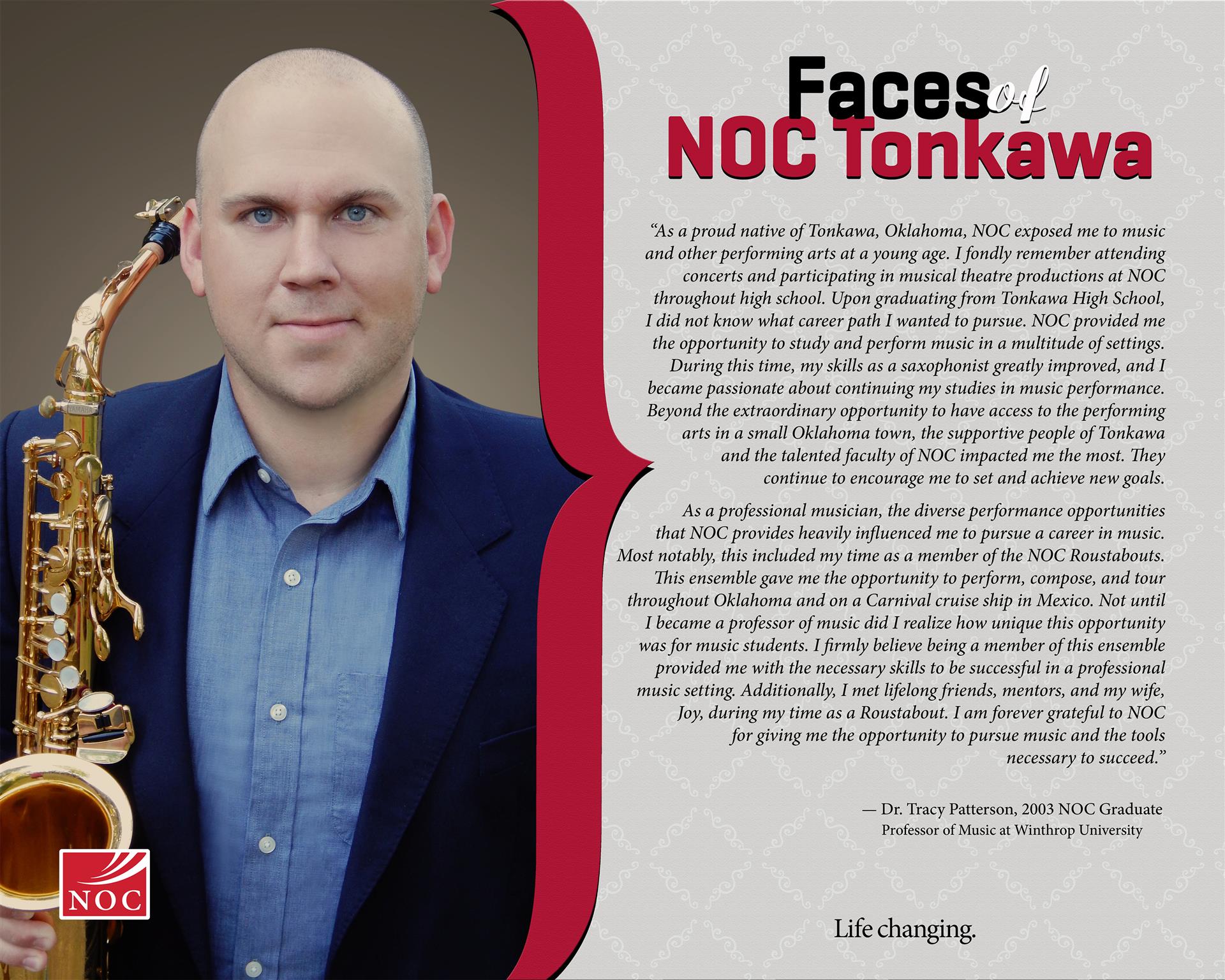 "As a proud native of Tonkawa, Oklahoma, NOC exposed me to music and other performing arts at a young age. I fondly remember attending concerts and participating in musical theatre productions at NOC throughout high school. Upon graduating from Tonkawa High School, I did not know what career path I wanted to pursue. NOC provided me the opportunity to study and perform music in a multitude of settings. During this time, my skills as a saxophonist greatly improved, and I became passionate about continuing my studies in music performance. Beyond the extraordinary opportunity to have access to the performing arts in a small Oklahoma town, the supportive people of Tonkawa and the talented faculty of NOC impacted me the most. They continue to encourage me to set and achieve new goals.
As a professional musician, the diverse performance opportunities that NOC provides heavily influenced me to pursue a career in music. Most notably, this included my time as a member of the NOC Roustabouts. This ensemble gave me the opportunity to perform, compose, and tour throughout Oklahoma and on a Carnival cruise ship in Mexico. Not until I became a professor of music did I realize how unique this opportunity was for music students. I firmly believe being a member of this ensemble provided me with the necessary skills to be successful in a professional music setting. Additionally, I met lifelong friends, mentors, and my wife, Joy, during my time as a Roustabout. I am forever grateful to NOC for giving me the opportunity to pursue music and the tools necessary to succeed."
Jeremy R. Johns, 2007 NOC Graduate, Location Manager for P&K Equipment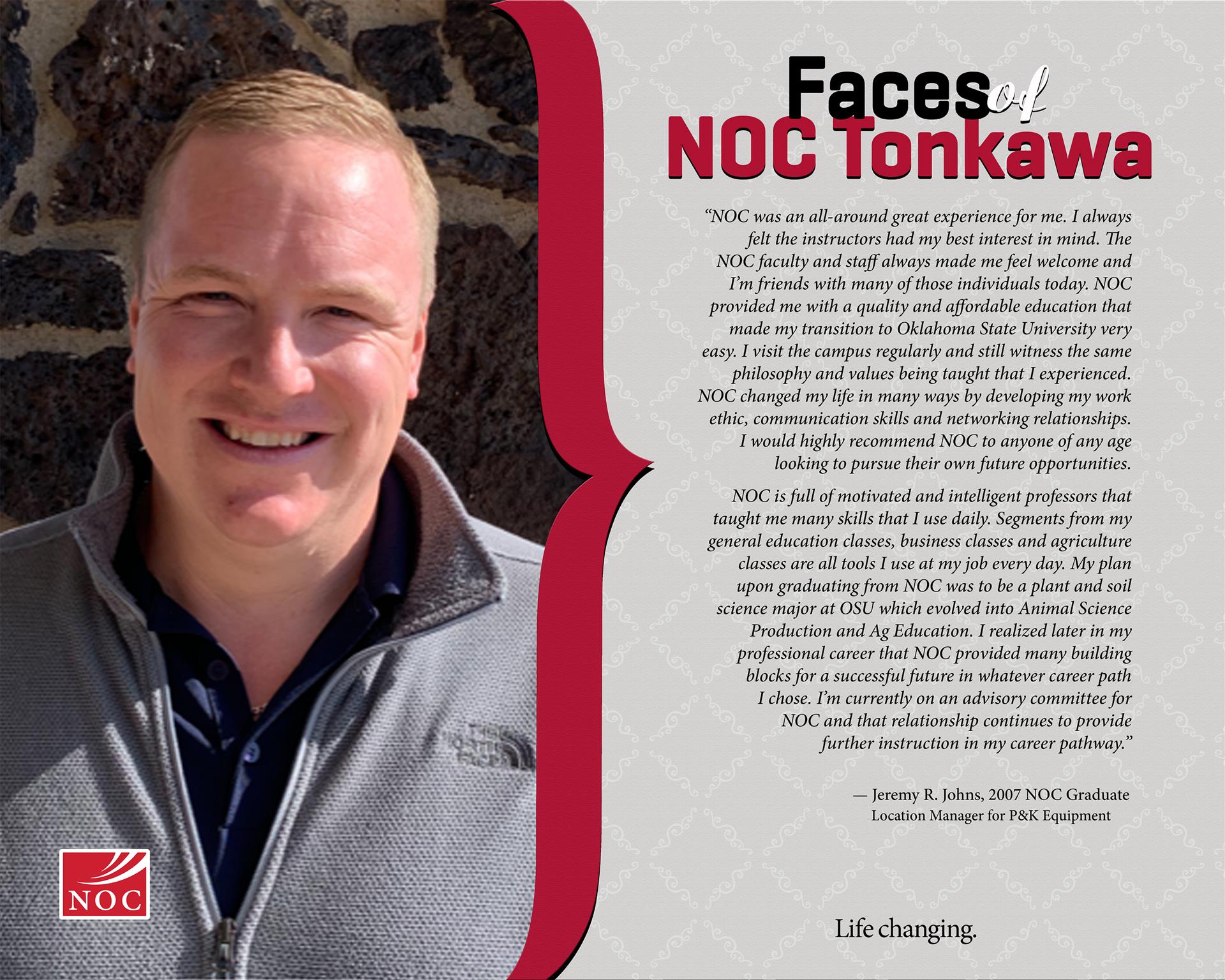 "NOC was an all-around great experience for me. I always felt the instructors had my best interest in mind. The NOC faculty and staff always made me feel welcome and I'm friends with many of those individuals today. NOC provided me with a quality and affordable education that made my transition to Oklahoma State University very easy. I visit the campus regularly and still witness the same philosophy and values being taught that I experienced. NOC changed my life in many ways by developing my work ethic, communication skills and networking relationships. I would highly recommend NOC to anyone of any age looking to pursue their own future opportunities.
NOC is full of motivated and intelligent professors that taught me many skills that I use daily. Segments from my general education classes, business classes and agriculture classes are all tools I use at my job every day. My plan upon graduating from NOC was to be a plant and soil science major at OSU which evolved into Animal Science Production and Ag Education. I realized later in my professional career that NOC provided many building blocks for a successful future in whatever career path I chose. I'm currently on an advisory committee for NOC and that relationship continues to provide further instruction in my career pathway."
Tracy L Simmons, 2015 NOC Graduate, RN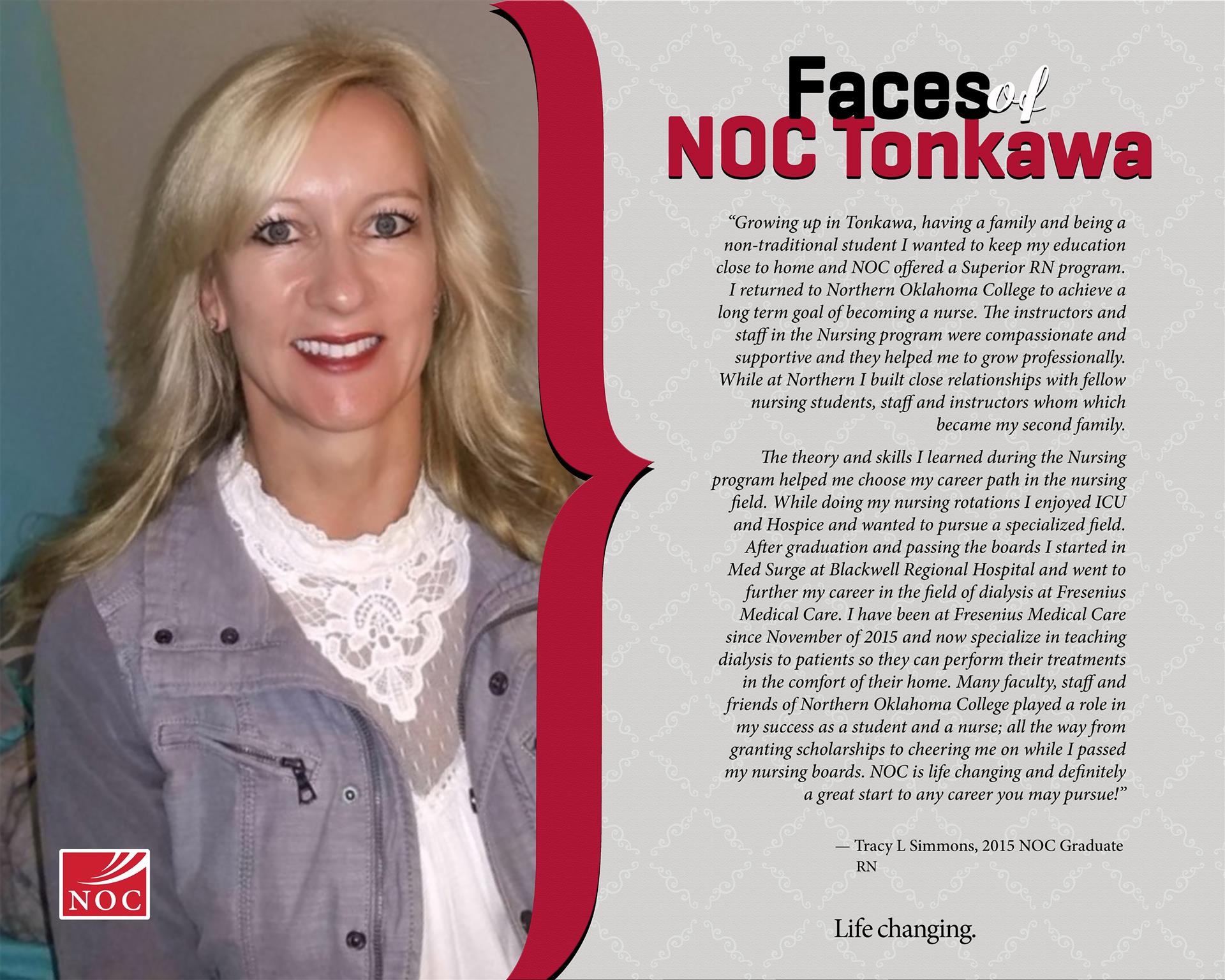 "Growing up in Tonkawa, having a family and being a non-traditional student I wanted to keep my education close to home and NOC offered a Superior RN program. I returned to Northern Oklahoma College to achieve a long term goal of becoming a nurse. The instructors and staff in the Nursing program were compassionate and supportive and they helped me to grow professionally. While at Northern I built close relationships with fellow nursing students, staff and instructors whom which became my second family.
The theory and skills I learned during the Nursing program helped me choose my career path in the nursing field. While doing my nursing rotations I enjoyed ICU and Hospice and wanted to pursue a specialized field. After graduation and passing the boards I started in Med Surge at Blackwell Regional Hospital and went to further my career in the field of dialysis at Fresenius Medical Care. I have been at Fresenius Medical Care since November of 2015 and now specialize in teaching dialysis to patients so they can perform their treatments in the comfort of their home. Many faculty, staff and friends of Northern Oklahoma College played a role in my success as a student and a nurse; all the way from granting scholarships to cheering me on while I passed my nursing boards. NOC is life changing and definitely a great start to any career you may pursue!"
Shafe Mashburn, 2019 NOC Graduate, Wind Turbine Technician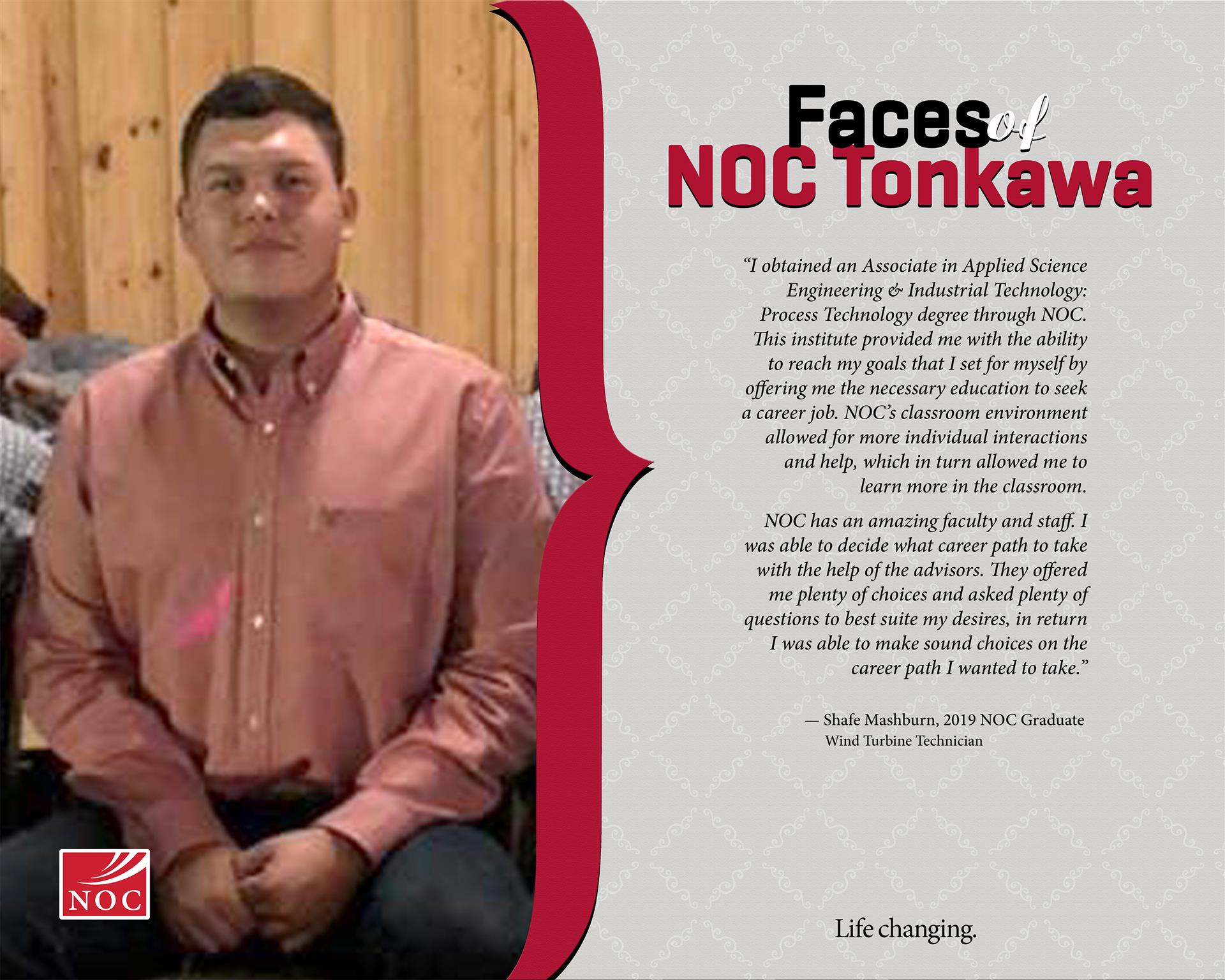 "I obtained an Associate in Applied Science Engineering & Industrial Technology: Process Technology degree through NOC. This institute provided me with the ability to reach my goals that I set for myself by offering me the necessary education to seek a career job. NOC's classroom environment allowed for more individual interactions and help, which in turn allowed me to learn more in the classroom.
NOC has an amazing faculty and staff. I was able to decide what career path to take with the help of the advisors. They offered me plenty of choices and asked plenty of questions to best suite my desires, in return I was able to make sound choices on the career path I wanted to take."