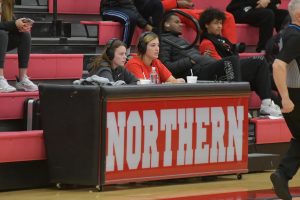 Savannah Chenoweth (right) broadcasts NOC Maverick basketball games on the NOC College Radio KAYE-FM 90.7.  She is assisted by Emma Enderud. (photo by John Pickard/Northern Oklahoma College).
NOC student Savannah Chenoweth broadcasts Mavs basketball
Students in the NOC Mass Communication Program earn real-world opportunities outside the classroom to better learn their craft.
Enter Savannah Chenoweth, a sophomore Mass Communication major from Perry.  Chenoweth broadcast Mavs and Lady Mavs Basketball live on NOC radio station KAYE-FM 90.7.
Chenoweth has always shown an interest in broadcasting.
"My interest in broadcasting began when I was younger," she said.  "My mother would always have The Today Show on in the morning getting ready for school. I loved when Kathy Lee and Hoda would come on because their hour time slot looked so fun, and I thought it would be the perfect job. Then, around my freshman year of high school, I turned more to sports broadcasting. I would watch MLB Tonight with my dad and I realized that I could sit around like those men on the screen and just talk and analyze the sport of baseball as well, and the interest grew from there."
Women have become more prominent in the broadcasting profession something Chenoweth has noticed.
"My broadcast role models are Holly Rowe and Jessica Mendoza. If you turn on the TV to any big sports game the chances are that the sideline reporter is Holly Rowe," Chenoweth said.  "She's the one who interviews Tom Brady or Lebron James after a game, and seeing her on the screen made me realize that my dream could be a reality."
"Jessica Mendoza played center field for Sanford University and is an Olympic Gold and Silver Medalist, as well as many other accolades. However, the reason she is one of my role models is because she was the first woman to be an analyst for Sunday Night Baseball. I had never heard a woman's voice while watching MLB before she came along. Holly Rowe and Jessica Mendoza took a career field that is heavily dominated by men and showed women like me that we deserve to be a part of it too," she added.
Though a rookie in actual broadcasting, Chenoweth said the nerves are starting to go away."
"I was nervous at first, but I think I'm getting the hang of it," she said.
"The toughest part of radio broadcasting is remembering the names of opposing players," she added. "Players get subbed in and out all the time, especially in basketball. The game moves so fast that you don't have time to look down and see who has the ball. About halfway through the first half, I can start remembering who's who. It is also difficult to call the game by myself. I have to be a color commentator and do play-by-play at the same time. It can get difficult but I think it will help me in the future."
Chenoweth said the easiest part for her is calling the game.
"I played basketball growing up and all through high school so I know the game well. I just tell people what's happening as I see it." She concluded.  "I didn't have to learn new terms or rules of the game. It also helps that the listeners can't see so I can call the game at my own pace. If a play happens quickly, I have time to assess who did what and tell the audience in my own time."
Mass Comm instructor Dean Pearcy said Chenoweth has done an incredible job with the broadcasts.
"Savannah stepped into the sport broadcasting role and sounded like a seasoned pro from the first time she opened the mic," Pearcy said.  I am very impressed with her natural delivery of Maverick basketball."
Northern Oklahoma College, the state's first public two-year community college, is a multi-campus, land-grant institution that provides high quality, accessible, and affordable educational opportunities and services.
NOC serves nearly 4,000 students through the home campus in Tonkawa, branch in Enid, and NOC/OSU Gateway Program in Stillwater.  Of these students about 80% receive financial aid and/or scholarships. 75% of NOC students complete their degree with zero debt.
The college is accredited by the Higher Learning Commission and offers associate degrees in three general areas: Arts, Science and Applied Science; the Accreditation Council for Business Schools and Programs; and the Accreditation Commission for Education and Nursing.
For more information about Northern Oklahoma College please call (580) 628-6208 or visit the NOC website at www.noc.edu.
-30-