Chautauqua Teachers' Institute
NOC's 2021 Chautauqua Teachers' Institute is scheduled for Monday, June 7th and Friday, June 11th.  It will be held in an online format.  The year's theme is "The Many Faces of Doug Mishler:  A Chautauqua Classic."  Mishler will take the stage as Jacques Cousteau, Nikita Khrushchev, Henry Ford, and General John Pershing  Through these character portrayals, teachers will see history come to life.  In addition, they will virtually tour locations relevant to the historical figures, such as  Notre-Dame de Paris and The Henry Ford.  Contact Dr. DeLisa Ging, Language Arts Instructor, for more details at 580.548.2370 or delisa.ging@noc.edu.
For more information about Chautauqua:
The Chautauqua Teachers' Institute is in its eleventh year and provides a unique opportunity for educators from across the state, NOC preservice teachers, and students seeking humanities and general elective credit to come together and experience learning, culture, and fun. During the past eleven years, over 270 educators and students have spent time making memories at this week-long event.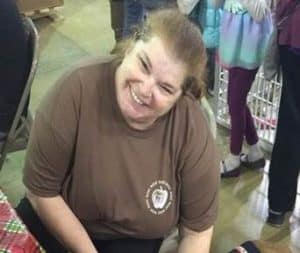 Karen Nickel from Forgan Public Schools attends the Chautauqua Teachers' Institute year after year.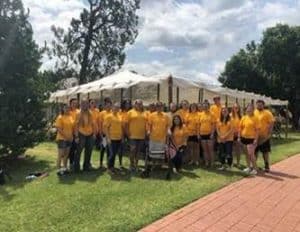 Chautauqua Seminar students and instructor, DeLisa Ging, take time for a picture after the morning session of Chautauqua events.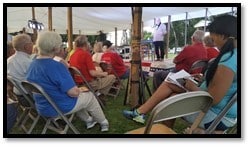 Students enjoy a nighttime character portrayal of Oklahoman Acee Blue Eagle, a Native American artist and educator.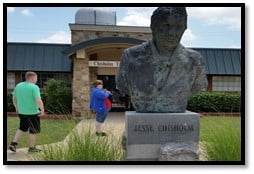 Students and Oklahoma educators take part in experiential learning outside of the traditional classroom and professional development experiences while attending Chautauqua.  In 2017, participants traveled to the Chisolm Trail Museum, located in Kingfisher, Oklahoma, to learn about historical artifacts associated with the Chisolm Trail, that year's Chautauqua theme.